$200 Gear Rebate On Select HK VP9 Models
If you're looking to add some firepower to your arsenal, Heckler and Koch has the Father's Day Loadout Special for you! Get a rebate of $200 towards HK's webshop to be used towards your choice of mags, swag, & more! You will earn the $200 Gear Rebate with the purchase of select VP9 Models (VP9, VP9-B, VP9 Color Frame, VP9 Bronze, VP9T-B, VP9T Grey, VP9T FDE, VP9T-B FDE)
Upload your receipt and serial number online here –  HK Father's Day Loadout $200 Gear Rebate
Offer Valid on Purchase Completed at H&H Shooting Sports from June 1 – June 30, 2023
Must Be Received and Redeemed by HK before July 31, 2023
HK Father's Day $200 Gear Rebate Redemption Process:
1) Purchase select HK VP9 Model (VP9, VP9-B, VP9 Color Frame, VP9 Bronze, VP9T-B, VP9T Grey, VP9T FDE, VP9T-B FDE) at H&H Shooting Sports
2) Upload your receipt and serial number
3) HK will send rebate via e-mail to address used in the redemption
* Rebate will be in the form of $200 towards HK's webshop to be used towards your choice of mags, swag, & more!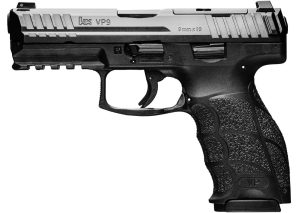 More about the HK VP9
The VP9 is Heckler & Koch's latest, and most successful pistol design. We are pleased to announce that H&K VP 9 pistols will be shipped with the following upgrades:
17-round magazines will replace previous 15-round versions
New sight configuration, which includes a high-visibility front sight and a "clean" black serrated rear
Optional optics-ready cut with cap. Adapter plates are sold separately and are available from the HK web store
Holosun SCS Super Green available for VP9 & VP9SK. Fits on any VP9 Optics Ready
Of course, the updated models retain all the existing features of the VP that have quickly made the VP series a class leader in ergonomics and trigger performance.
It doesn't just feel great. It shoots great.
In any firearm, especially a handgun, the many "touchpoints" between the shooter and the firearm are critical to consistent, repeatable, performance. The touchpoints we've emphasized on the VP that may actually help you improve on the range as well.
Experience gained by HK engineers with the P30 hammer-fired pistol had a direct influence on the design of the VP9, but the VP9 breaks new ground with its integration of a unique striker firing system with an enhanced HK "light pull" trigger. The net result is a pistol with custom-fit ergonomics with trigger quality unequaled in any production striker fired handgun.