Top 4 Gun Safe Manufacturers
After reading our blog post about the Top 4 Gun Safe Manufacturers, you will be able to determine the best gun safe for your needs:
Why it's important to purchase a gun safe to protect yourself and others
What you should look for in a gun safe to ensure it fits your needs
Who the top gun manufacturer is and why their safes may benefit you
Whether you're on the range, in your home, or anywhere else, the first rule of guns is always be thinking of safety. One of the best ways to practice gun safety is to purchase and use a gun safe in your home. This keeps your weapon away from people in your home who may not be trained to use a gun, such as your children. When you use a gun safe, you're drastically reducing the chances of someone shooting the gun accidentally or taking it for their own use. When you're ready to invest in a home or gun safe, you want to make sure you're spending your hard earned money wisely. But with so many brands out there, how can you be sure you're choosing a reputable one? We're here to help.
Take a look at some gun safe manufacturers that we recommend and why their safes may be well suited for your needs.
Why You Need a Gun Safe
Owning a gun is a major responsibility. That means you can't just leave it lying around for anyone to pick up. Doing so gives easy access to your weapon to people such as your children, house guests, or burglars. So, if you're going to purchase and own a gun, your second purchase needs to be a gun safe.
Gun safes come in a variety of shapes and sizes. They also can range in cost from surprisingly inexpensive to very expensive. However, the cost of the safe isn't nearly as important as its ability to secure your guns. It's better to spend a little more and get more protection than spend a little and find that you've run out of safe space or have no way of securing your weapons.
What to Look for with a Gun Safe
When you begin to look for an adequate gun safe, it helps to list out exactly what the safe will be securing. You should write down every gun you have, along with each accessory. Add to that list every new gun you plan on purchasing over the next few years, as well as any new accessories. This will help give you an idea as to how big your safe needs to be.
You should also check with your home insurance company to see what requirements they have for your guns. In fact, if you purchase a safe that meets their minimum standards, they may reward you with an insurance discount. Over time, the discount may pay for the cost of the new safe.
Beyond size and insurance requirements, there are a variety of other factors to consider when looking for the best gun safe for your needs:
How valuable are your guns or any other items you may store in the safe? If you were storing the cash value of your guns or valuables, would you feel comfortable leaving them in the safe you purchased?
Do you need fire protection? (The answer is usually yes.)
How often will you be opening your safe?
Is there size or weight limitations based on your residence or wherever you choose to keep your gun safe?
The Top 4 Gun Safe Manufacturers
Now that we've gone over some things to consider when purchasing a new gun safe, it's time to talk about the gun safe manufacturers that consistently produce the best gun safes on the market. You can find some of these brands here at H&H Shooting Sports in Oklahoma City. Others you may be able to procure either online. No matter what manufacturer you choose to go with, though, make sure that it's the best gun safe for your specific needs. It is important to know one thing: we're recommending the safe models these companies build here, in the U.S. All safe manufacturers import to some degree, some heavily, but imported safes (safes made in China and Mexico) often can't meet the standards of qualities found in U.S.-built models. So, as we make our recommendations, remember: we're talking about gun safes Made in the USA.
After a lot of research, here's our list of the Top 4 Gun Safe Manufacturers in alphabetical order:
AMSEC

American Security (also known as AMSEC) offers a variety of gun safes and secured cabinets for guns and rifles of all sizes. Whether you're an enthusiast, game hunter, or just looking to protect your property, you'll find a gun safe option for you with AMSEC. They offer two main types of safes: RSCs and TL-rated safes. RSC stands for Residential Security Container. As the name suggests, these are designed for residential use. TL-rated safes are intended for commercial use; they typically weigh much more than residential models, and they cost significantly more too.
Their safes are also heavy-duty and durable. During the highly publicized Paradise California fires, close to 14,000 residences and over 500 businesses were destroyed by the flames and sweltering heat. All that was left afterward was an AMSEC safe that still required a locksmith to drill for over two hours to open.
If you plan on storing essential documents or valuables alongside your guns, you may benefit from an AMSEC safe. Their variety of size options also make them ideal for those storing different guns in different locations.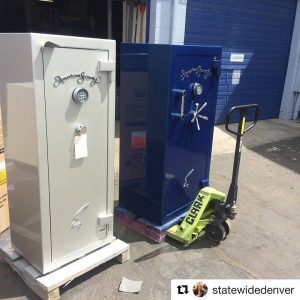 Browning
Browning is famous for their quality firearms, but hey also lend their brand name to safes manufactured by a company called ProSteel. ProSteel has been making safes for over 40 years. Browning Pro Steel gun safes offer several benefits to gun owners. Many of their safes provide two to three times the fire protection of other gun safe manufacturers, with some able to withstand flames for close to two hours.
Additionally, you can customize a safe that's perfect for your specific needs. Those living in unique situations or locations may benefit from the ability to build a safe that's just for them. When it comes to maximizing safe interior storage, Browning ProSteel safes lead the industry with unmatched versatility. Their patented Axis Adjustable Shelving system can be configured to meet virtually every need. Plenty of safe companies offer handgun storage in the door. Browning's patented DPX Door Storage System actually let's you to store long guns in the door.
Finally, their Browning Safe Builder App lets you virtually visualize how a gun safe will look in specific situations. Just pull up the app, give it access to your phone's camera, and you'll see a virtual image of how specific gun safe models will look in your home or other properties.

Fort Knox
Those looking for a premium, ultra high end, customized gun safe solution should also look towards Fort Knox. You can customize their baseline models to make sure it's perfect for your needs.
Even if you stick with their off-the-shelf models, gun owners should be pretty happy with what Fort Knox offers. Each safe offers a lifetime warranty from defects in the material and workmanship. The locks on the safe come with the same warranty.
Fort Knox adds additional layers of steel to all of their safes, which helps further protect them from anyone trying to break inside. Their hallmark feature is their optional steel liners—you can pay extra to add additional layers of steel to your safe. This improves both fire resistance and burglary resistance. Anyone attempting to force their way in will soon realize their attempts are in vain.
Liberty Safe

Liberty Safe has been in business for over 30 years. Of all the manufacturers on this list, Liberty builds the most safes domestically. They make about 85% of all home and gun safes that are built in the U.S. Liberty Safes has sold over two million safes to date, and while they do offer some imported (non-US made) safes, only a small fraction of their business deals with imported safes.
One of Liberty's biggest strengths lies in their ability to build a large number of safes with consistent, high-quality results. Individually, other brands can build around 20 safes a day; the team at Liberty Safe can build up to 700 safes a day at peak capacity.
Beyond that, Liberty Safe is known primarily for four things:
Their security technology, like stronger, 2-piece safe bodies, and exclusive military-style locking bars (these have virtually eliminated pry attacks)
Rigorous fire testing—Liberty makes sure their safes will perform exactly as expected in a fire
Outstanding customer service, which is handled in the same facility as the safe factory in Provo Utah, by a team with extensive knowledge of their safes
Unmatched Warranty—like many companies, Liberty will take care of you if your safe is damaged by a fire or attempted break-in; however, if we need to replace it, we cover everything: removal of the damaged safe, shipping of the new safe, even delivery and installation (as far as we can tell Liberty is the only safe company whose warranty covers all of that)
The Bottom Line
The bottom line is this: if you're looking at this list of the  Top 4 Gun Safe Manufacturers, then you are looking for a gun safe that offers serious firearm protection from both thieves and fire. Don't just shop for the cheapest deal you can find. Stick to a safe company with a good reputation. The gun safes available from leading big-box stores, and safe shops who specialize in imported safes from China or Mexico, have little to offer aside from potentially attractive price tags. However, remember the old adage: "you get what you pay for."
When purchasing a gun safe, you need an American made product that you can trust. Most of the time you are placing your most valuable and important items that you own in the safe that you purchase. Make sure that the safe you purchase is appropriate for the items you are storing in the safe.
Oklahoma's Gun Safe Headquarters – H&H Shooting Sports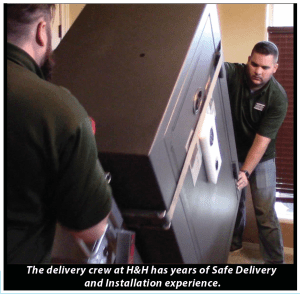 When it comes to guns and gun safety in Oklahoma City, there are no better experts than the ones at H&H Shooting Sports. Stop by today or shop our online store to see how we can help you secure your guns and keep you and your family safe. If you are in the market for a real safe from a place that truly cares about your safety and protection give us a call. H&H sells a wide variety of new & used safes, and the best quality safes in the industry from Browning Pro Steel, Winchester, Valor, & Liberty Safes. We encourage you to come in to our safe showroom to see our full selection. You'll also meet our staff – and we promise you'll have the best gun safe buying experience ever. We're a locally owned family business, and treat our customers like family too. We hope to speak with you soon!