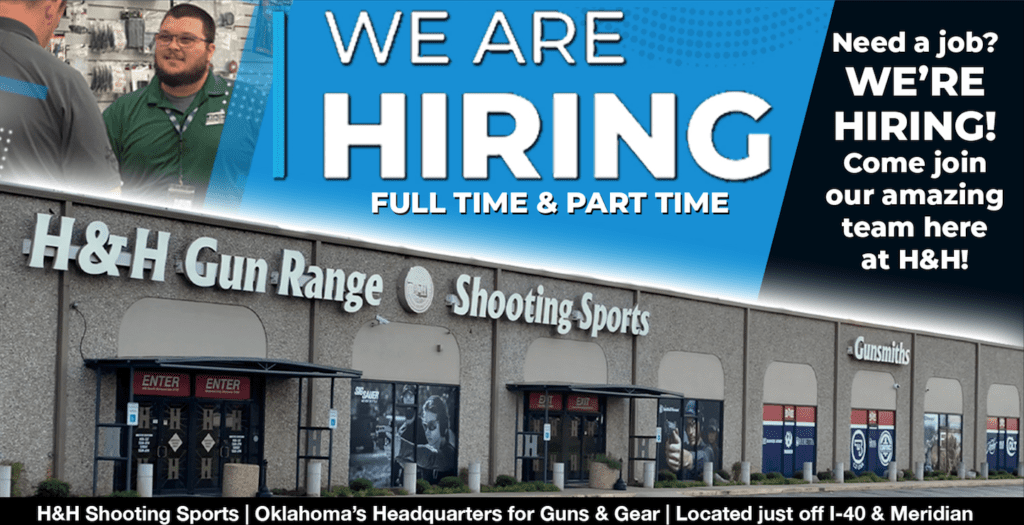 Looking for Employment? Interested in joining our Team?
If you love guns and are incredibly talented, maybe you should work for us. H&H Shooting Sports just so happens to be hiring. We are seeking both Full Time & Part Time Team Members –
Benefits include Health Insurance, Dental Insurance, Vacation, Sick Leave, Vendor Purchase Programs & Employee Discount Programs.
The future is looking super exciting, and we've got loads to get done! If you're amazingly talented and an all-round amazing person, then we'd love you to come join our shooting sports team.
Here's a look at some of the roles we have open right now – We are currently looking for qualified, knowledgeable, and friendly people to fill the following positions:
Current Employment Open Positions As of 06/09/2023:
We are looking for both Full Time (FT) and Part Time (PT) personnel in the following areas.
Firearms Sales –  PT – We are seeking a part time sales person with weekend availability to join our team as a Firearms Sales Associate. The duties of the Sales Associate include assisting customers in locating and purchasing of firearms, operating the cash register, stocking merchandise, cleaning the store displays, and performing other duties as assigned by the General Manager to maximize store profitability and customer satisfaction while protecting company assets.
IT Technician – FT – We are looking for a qualified IT Technician that will install and maintain computer systems and networks aiming for the highest functionality. You will also "train" users of the systems to make appropriate and safe usage of the IT infrastructure. A successful IT Technician must have a thorough knowledge of computer software and hardware and a variety of internet applications, networks and operating systems. The ideal candidate will also have great troubleshooting abilities and attention to detail.
Accounting Clerk –  PT –We are seeking an Accounting Clerk to assist the accounting team with administrative and clerical support. A candidate for this position must have excellent communication and organization skills and be able to work independently as well as collaboratively with others. Bookkeeping and Microsoft Office knowledge is a must, as well as a high attention to detail.
Café – FT/ PT – No experience necessary but food handling experience is a plus. A willingness to learn with a great attitude is a must. Weekend and Evening availability is preferred.
Range Staff – FT/ PT – No experience necessary but firearm experience is a plus. A willingness to learn with a great attitude is a must. Weekend and Evening availability is preferred.
Shipping & Receiving Manager – FT –  We are seeking a shipping and receiving manager who will handle incoming and outgoing packages in a warehouse. Job duties include tracking inventory, keeping accurate records, packaging and weighing items, printing shipping labels and postage, inspecting goods received for damage, and distributing products to other departments.
Inventory Control Generalist – FT –  This individual will work closely with the department managers to ensure adequate inventory is maintained. Some of the responsibilities for this  individual will include researching product, identifying sale/overstock items for special pricing, reviewing purchase orders, and ensuring products are displayed in the store. The ideal candidate for this position will have previous inventory control experience and will be highly organized.
Law Enforcement Outside Sales Rep – FT – You will work with law enforcement agencies and bids for their orders. You will find yourself assisting these agencies with uniform fittings as well as ensuring to bid on supplying the firearms, ammunition, accessories and more they are looking for. This position requires excellent customer service as well as a base knowledge of the products.
Law Enforcement Bids & Billing Coordinator – FT – You will coordinate with the sales rep and the purchasing coordinator to provide the law enforcement agencies with bids for their orders. You will also coordinate with the agencies regarding outstanding balances and payments. You will also coordinate with the manufactures regarding outstanding purchase orders. This position requires exceptional attention to detail, excellent customer service and a willingness to learn. This position also requires experience with Microsoft office.
Ammo and Used Guns Buyer – FT – You must possess an extensive knowledge of ammo and firearms. You will be responsible for tracking the movement of ammo and placing orders for the store. You will also find yourself evaluating and providing a purchase price for any customer wanting to sell us their firearm. This position requires exceptional customer service skills, cash handling experience and competency using a computer.
Online Sales Coordinator – FT/PT – You will spend your time responding to online inquiries regarding firearm purchases, collect and post payments, and coordinate the shipping for the purchased firearm. You will also utilize your time posting new and used firearms on the website as needed. Attention to detail is a requirement for this position. You will find yourself working with spreadsheets, balances, serial numbers, and researching firearms. Based on the needs of the store, this position will also assist the Used Gun Buyer.

Click the button below to download our application form
If your qualifications match what we are looking for, please fill out and complete this application then submit it by email to ContactUs@hhshootingsports.com or drop it off with one of our cashiers in our lobby.
Any H&H Shooting Sports applications that are submitted but not completely filled out, will not be considered. We will give you a call If we think you would be a good candidate. Thank you!!!