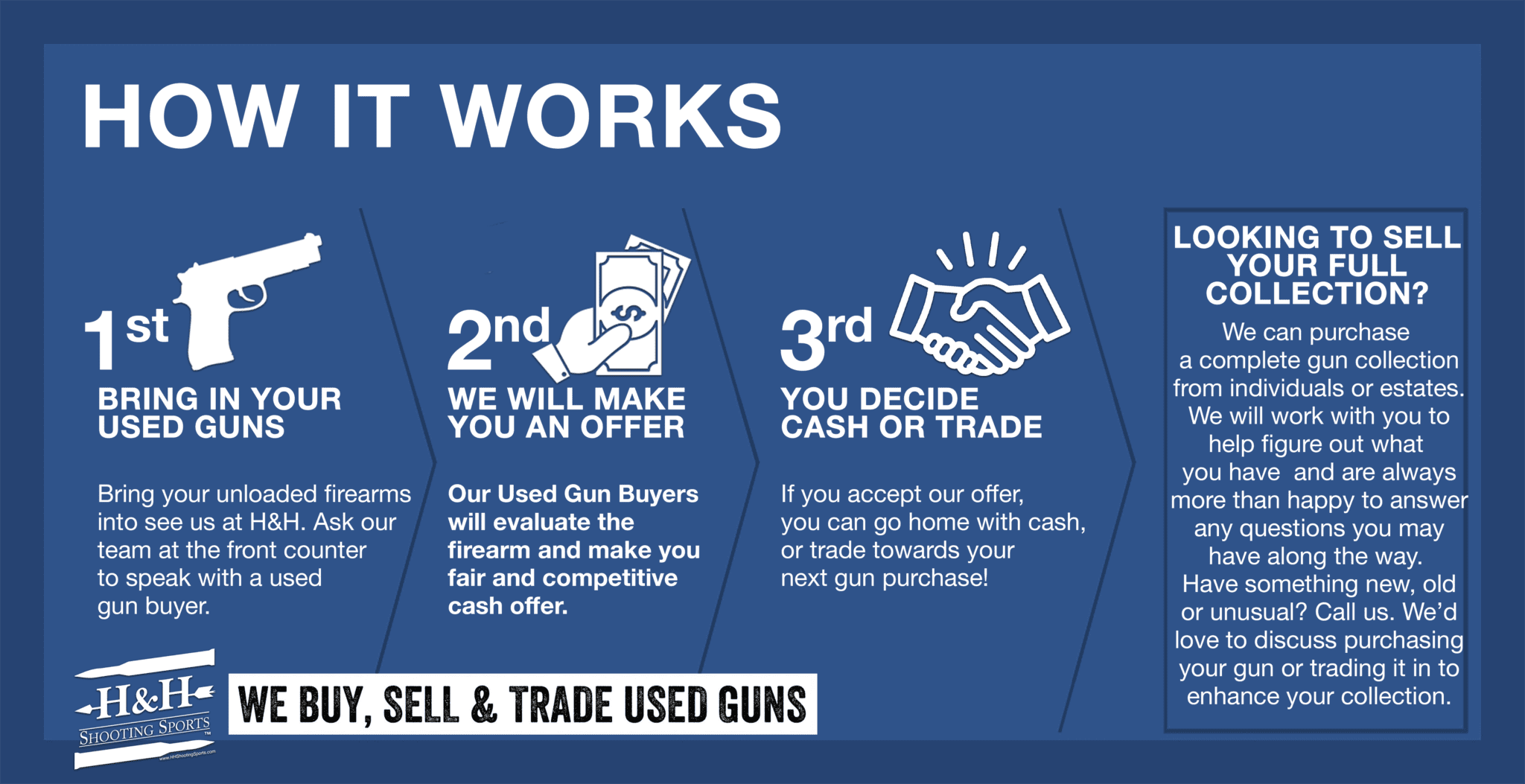 H&H Shooting Sports Buys & Sells Guns
If you want to sell or trade any of your current firearms at a gun store in Oklahoma City, OK, H&H Shooting Sports buys, sells, and trades guns. We have a wide selection of guns for sale from dozens of top-leading firearm brands, such as Smith & Wesson, Glock, and Browning. You can find top-quality shotguns, rifles, and handguns in various styles, gauges, calibers, and price ranges. Our expert staff has extensive knowledge and experience with a broad range of brands and models, and we can help you narrow down your search for a perfect addition to your collection. Additionally, our gun shop will buy and trade nearly any used firearm. After selling or trading your guns, you can leave with money in your pocket or apply your earnings to a compact pistol, revolver, semi-automatic rifle, or another firearm of your choosing. Our gun buyers will make you an offer when you bring in your unloaded guns.
Buy, Sell, or Trade-in Oklahoma City, OK
H&H Shooting Sports is here for all your firearm needs, whether you are looking to buy a new firearm to add to your collection or want to clean out your gun safe and sell off your used guns. Our gun shop carries new, used, and consignment firearms for guests to purchase. We carry the industry's most trusted and reputable brands because we understand the value of a quality handgun, rifle, or shotgun. Our gun buyers put the same thought into appraising your items for sale and apply their features and condition to calculate a fair price. If you have a firearm you don't want or need anymore and want to turn it into cash or credit toward a purchase, we want to buy your used guns! You can visit us for any of the following transactions:
How Our Gun Buying Process Works
Selling your firearm is a simple process at H&H Shooting Sports because we value your business and want you to enjoy your experience in our store. You start by bringing your unloaded guns to our store. You can go up to the front counter and ask to speak with a used gun buyer when you arrive. Our gun buyers will examine your gun to evaluate its condition, features, and other specifics and use that information to make you a fair, competitive cash offer. If you decide to accept our fair offer, we'll pay you in cash or apply your trade toward your next purchase.
We Sell More Than Guns at Our Store
H&H Shooting Sports proudly offers the state's largest selection of shotguns, handguns, and rifles. However, our firearms selection isn't all you'll find at our store. We sell a wide array of accessories to go with your new guns, including knives, optics, silencers, holsters, and more. You can send your firearms to us for FFL transfers to pick them up at our store. You can explore our inventory any time you visit to buy, sell, or trade firearms.
Contact Us or Visit Our Gun Shop Today
With H&H Shooting Sports' extensive inventory and fair offers for used firearms, you can always find a great deal at our gun store. We welcome you to bolster your personal gun collection with a new, top-quality rifle, shotgun, or handgun from an industry-leading brand. If you have a pre-owned firearm you don't want or need, you can sell it for cash or trade it and put your offer toward an upgrade or new piece. Contact us today to learn more about our inventory and services, and visit us any time you want to buy, sell, or trade a firearm.