H&H Shooting Sports – Oklahoma's Headquarters for Guns & Gear
H&H Shooting Sports features 61 indoor shooting lanes for both firearms and archery.
We carry the top brands from the nation's largest manufactures, and have Oklahoma's largest selection of new and used firearms.
Join our Email List
Sign up to get news and updates in your inbox.
View our Monthly Sales
Check out the sales this month at H&H
This section of our online store is powered by Sports South, one of the nation's largest distributors.
All items listed in this section on this section of the website are filled via distributor. Order volume has increased dramatically and we are doing everything possible to process and ship all orders quickly. Unfortunately, our current backlog is 10+ days and increasing. For this we are truly sorry!
Please note that our online listed prices and inventory that are reflected online are online exclusives and may or may not match our in-store inventory. Not all items on this website are available in our store
This section of our online store is filled directly from our in store selection at H&H
All items listed in this section of the website are filled from in stock inventory at H&H Shooting Sports in Oklahoma City
Please note that this section of our online store reflects an extremely small sample of our in store inventory at H&H, and is mainly utilized for training classes, gift cards, and special purchases.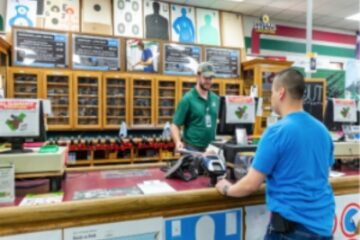 Looking for Employment? Interested in joining our Team? If you love guns and are incredibly talented, maybe you should work for us. H&H Shooting Sports just so happens to be hiring. We are seeking both Full Time & Part Time Team …
New to Shooting?
We're here to help make your first shots comfortable.
Order Gift Cards Online
H&H Gift Cards make the perfect gift!
Looking for Training? Shoot with us!
If you've never held a gun before or are looking to grow your shooting skills, you are always welcome at H&H.
FFL Transfers
If you need to have a firearm transferred in we are honored to help. We have tried to make this process a bit easier by taking all requests via email.
Membership has it's benefits
We are open to the public so feel free to come check out our ranges before enjoying all the benefits of our membership.
Do you want to sell your used firearms?
Bring any unloaded used firearm you want to sell to the front sales counter and ask to speak with a used gun buyer.
Next
Previous
I had the best time ever!! The employees were all knowledgeable and very helpful. They made my families experience a great one!! Thank you!

Jessica Hipple
Best price to shoot at around Oklahoma and they do awesome work on firearms

Kenneth Jackson
My crossbow string was looking a little rough upon inspection the other day. With deer season a week out I thought I'd never get one in time. But Gary fixed me up in 20 minutes while I waited. I'll definitely call them up next time I need some help with my bow!

Clayton Doss
00
THOUSAND SQ FT FACILITY
0000
SERVING OKLAHOMA CITY SINCE