Gun Safes for Sale in Oklahoma City 
Largest Selection of Made in America Gun Safes in OKC
H&H Shooting Sports offers the largest selection of "Made in America" gun safes in Oklahoma City, OK. We provide a vast selection of the top safe manufacturers, including Liberty Safes, Browning Pro Steel, & Champion Safes. When you visit our showroom, you can check out over 75 safes, ranging from 5 cu ft to 50 cu ft, on display. If we do not have the safe you need, we are happy to special order it for you. We also offer a wide variety of accessories for your safe, including dehumidifiers, eva-drys, door panels, and much more. Take a look at the best dehumidifiers to prevent moisture in your safe.  Protect what you can't replace with a new safe from Oklahoma's Safe Headquarters – H&H Shooting Sports
What's the Best Gun Safe for Me?
All gun safes aren't made equal. Whether you need a small gun safe or a large rifle gun safe, it's essential to know the best characteristics of a superior gun safe. You should always consider: 
Safe Size – Bigger is always better when it comes to gun safes. You can easily store multiple guns in one location, but it's important to remember that gun safes seem to fill quickly. You'll also love the extra space for gun accessories.
Fire Safety – Many gun safes use ceramic wool blanketing or sheetrock to insulate the safe from intense heat. Getting a safe that passes UL tests is critical to stand up to a fire. Shells and cartridges will fire when burned, so it's important to have a gun safe that is fire resistant.
Interior – The interior of a gun safe should at least have a soft lining to ensure you don't ding your firearms. Custom interiors are popular with options like interior lighting and storage.
Wall Thickness – The best thickness for a gun safe wall is typically a 10-gauge sheet to a 16-gauge sheet. It's critical that the thick walls of steel are put together with continuous welding instead of bolts for optimal sturdiness. 
Visit The Liberty Safes Of Oklahoma City Online Store
Shop our selection of Liberty Safes online at www.LibertySafesOKC.com 
Delivery & Moves
Worried about how to get your new safe home? We Deliver!
We can move and deliver safes in Oklahoma and the surrounding areas. We're one of the few businesses that have the tools and expertise to move safes of large sizes and weights. Our delivery goal at H&H is to move safes without risk to our guest's home or our delivery team. We never outsource our moving or delivery services to a third-party company unfamiliar with our products. All safe deliveries are protected with heavy blankets, moved with a smooth stair climbing dolly, and secured properly with heavy-duty security straps, and treated as the very valuable item it is.
We offer four delivery types, including:
Self Pick Up – We will help you load your new safe into your vehicle at our store.
Drop Ship – Our team will drive the safe to your location and leave it boxed and on a pallet.
Garage – We bring your safe into your location, and you place it in the new spot.
In House – We will bolt down your safe to your concrete foundation or wood.
Bolt Down / Installation
We can bolt your safe down to your concrete foundation (We can also lag-bolt in wood, if you don't have a concrete slab foundation) For a proper gun safe installation, the safe needs to be bolted down to the foundation. A 500lb safe bolted down is more secure than a 1500lb safe not bolted down. Why? Most safe burglaries are accomplished by pushing the safe on its back and prying open the door. If the safe is anchored down it is nearly impossible to pry open the door when it is standing vertically.
Safe Delivery starts at just $100 and up (depending on size and location)
Live outside the Oklahoma metro area? We have got you covered! We deliver all over the place including Texas, and Kansas! (Out of Metro Fee will be applied)
Safe Moving is our Specialty
Need your safe moved? Let us help!
The delivery crew at H&H has years of Safe Moving and Installation experience. We have the equipment and expertise to move safes anywhere in Oklahoma, and even into the surrounding areas. Moving is a potentially dangerous and difficult task. We have the advantage of specialized safe moving equipment and experienced safe personnel. This advantage helps us keep our prices competitive and yet maintain an impeccable safety record. Learn more about moving your safe here. 
Feel free to give us a call at (405) 947-3888 EXT 188 to get a quote on a safe move – If you call while our delivery crew is out pushing safes around, please leave a detailed voicemail including your name, address, phone number, and any details about your safe including brand & model, size, weight, or any other details. Our delivery manager will return your voicemail as soon as possible.  
Why Choose H&H Shooting Sports?
H&H Shooting Sports is proud to be OKC's headquarters for guns, gun safes, gun accessories, and more. We offer the largest selection of firearms in the state and have a knowledgeable team to help you find what you need. With our in home delivery services and zero down safe financing options, it's never been easier to secure your firearms and valuables in your home. Visit our large indoor firearm shooting range when you need practice. When you get finished shooting, grab a bite at our4U Café. Our team is proud to offer a wide variety of home and gun safes perfect for your firearms and other valuables. Protect what you can't replace with a quality safe from H&H. 
Visit H&H Shooting Sports in Oklahoma City, OK
Whether you need safe accessories, a new gun safe, or moving services for your safe, we're here for you. H&H Shooting has a large variety of the best gun safes on the market, including Liberty Safes & Browning Pro Steel Safes. We will help you find the perfect gun safe for your needs. Our team of experienced gun enthusiasts is ready to share our knowledge of gun storage with you today. Contact us today! 

Liberty Safe –  Attempted Break In – Warranty Claim Safe
We picked up this Liberty Washington Seriessafe for a customer after an attempted break in. While the owners were away some wannabe safe crackers tried to pry, cut and beat their way into it. After all their efforts the safe is not even close to coming open. Of course, since it's a Liberty safe, it was fully covered under their Lifetime Theft and Fire warranty and we got to bring a brand new safe out to the owners. Not bad, huh?
We want to thank the would be thieves for this voluntary Stress and Torture test! Through your tireless determination we can see just how tough a Liberty safe can be. We salute you for your (unsuccessful) hard work!
Tornado Safes
After a tornado hit Moore, Oklahoma in 2013 a Franklin Series Safemanufactured by Liberty Safe was still standing. 
This Liberty Safe Survives Oklahoma Tornadoes
This Liberty Centurion Safewas removed from a home in Newcastle OK, on Monday, June 3rd. The homeowners purchased their safe from H&H had it delivered and bolted to the foundation of their home, when the tornado came and did severe damage to their house, their Liberty Centurion was unharmed.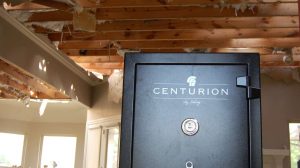 Liberty Centurion Safe removed from tornado-damaged home
Ben's American Security Safe Survived The May 20th 2013 EF5 Tornado! H&H delivered and bolted his safe to the foundation in his garage just a few months before the tornado came. It's a great feeling to have a quality product that will hold up to an EF5 tornado.
Ben's Safe Survived an EF5 Tornado