Should I move my own safe or should I hire professional gun safe movers? When you're done reading our blog post on how to move a gun safe, you'll have learned:
Why you should hire professional gun safe movers to move your safe

Why you need gun safe moving equipment to move a heavy safe

How to move a heavy safe securely and without causing damage to your home or the safe
Why You Should Have a Professional Gun Safe Movers Install Your Safe
So, you've done the right thing and secured your guns in a heavy-duty safe. However, now you're moving, and you need to find a way to transport that heavy steel box from your old home to your new abode.
While you may be tempted to try and do this yourself with the tools you have on hand, you should take a step back and understand that hiring professional safe movers is the best move for you and your family's safety and prevent potential damage to your old or new home.
Even if you're not moving to a new home but simply remodeling a portion of your current one, using professional gun safe movers to handle the transport of your gun safe is the best option for everyone involved. Not convinced? Make sure to keep reading.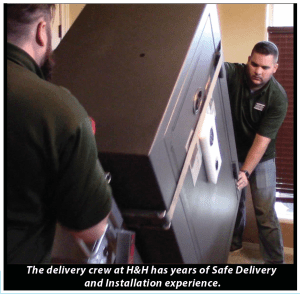 Safety Always Comes First
The gun safes from Liberty Safes, Browning Safes, or any other quality safe manufacture are designed to be heavy, impenetrable, and very difficult to move. That's, in part, why they're so good at securing their contents. So, if you try to move a gun safe yourself, you may find yourself overmatched by the safe's weight. If you try to involve other family members in moving the gun safe, you could be putting them at risk of personal injury, too.
When you hire professional gun safe movers to handle the safe for you, you're hiring people who have experience and training in moving heavy objects like gun safes. They'll also have all the requisite tools needed to move your safe safely and securely. Yes, there is a cost to hiring safe movers, but that cost will be far below any hospital bills that could come from being hurt while moving the safe.
Additionally, if you have a gun safe, you clearly already care about your and your family's safety. So, why not take the next logical choice and hire professional safe movers to safely move your gun safe for you?
Avoid the Backache
Even if you manage to avoid outright catastrophe from a safe tipping over or slipping from someone's grasp and landing on them, you still may not be able to avoid the general aches and pains that come from maneuvering a heavy safe through your home. As well you might not be able to avoid damaging your walls, floors, and doorways with the DIY approch.
Moving a heavy safe is an exhausting experience and may leave you without the energy to take on the rest of the work required to empty your home. Unless you have a grand piano tucked away in some corner of your home, your gun safe will probably be the most difficult to move out of or into your home.
Again, professional safe movers have the training and tools to get the job done and save your legs, back, and arms for work more suited for your abilities. Beyond the actual moving equipment, safe movers will have built up years of experience, and will use back braces, hard-toed shoes, and other equipment that keeps them from pulling a muscle or dealing with aches and pains.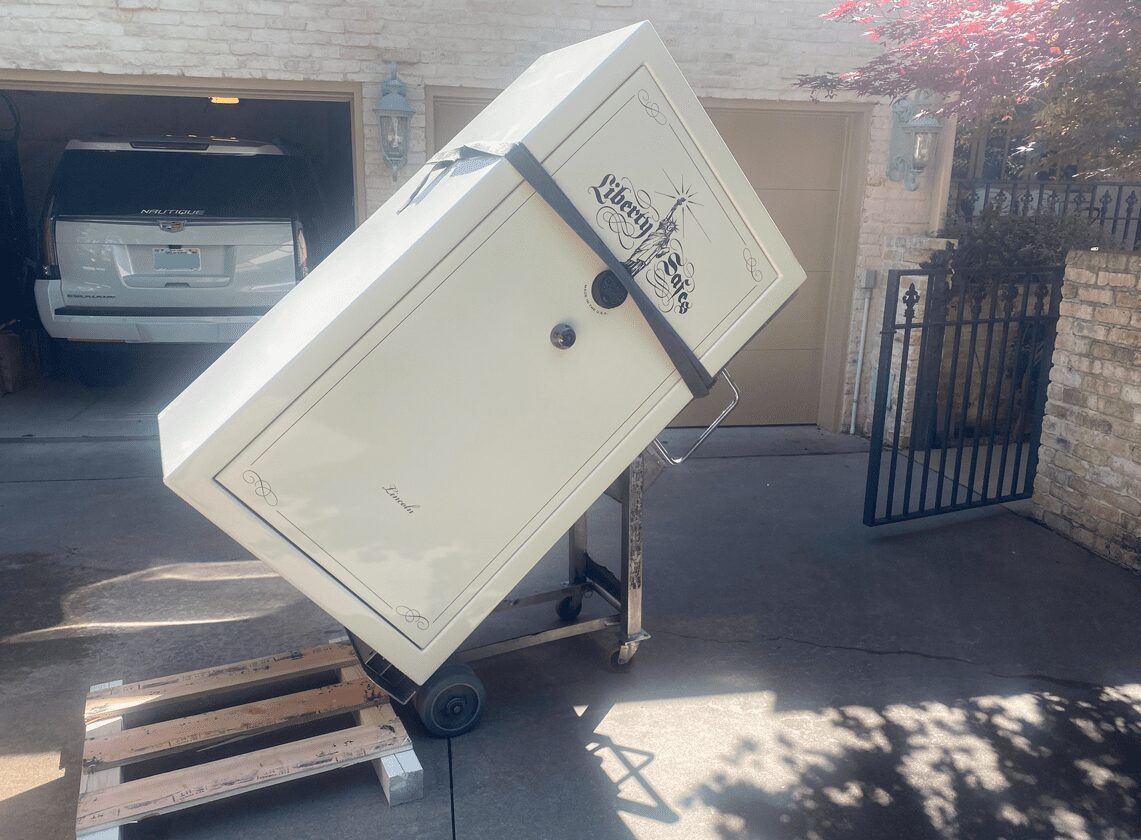 Moving a Safe Requires Special Equipment
You already have all the equipment you need to move a heavy safe – a hand truck or small dolly, so moving a gun safe will be easy, right?
Well, those tools may make it easier to move a safe on a level surface, but what happens when you encounter stairs? If you make it down the stairs, how are you going to lift the safe onto a trailer or into a truck bed? How much do you trust the ramp on the rental U-haul box truck? What happens when the safe starts to tip while you are wheeling it up that ramp?
Heck, if all you have is a dolly, how are you even going to get the gun safe off the ground far enough to push the dolly underneath it? What happens when you get the safe up on the dolly, and the wheels pop under the weight of your safe?
You may have some of the equipment to do part of the job. Professional gun safe movers, though, have encountered every potential moving hazard in the book. They'll come with every possible tool they'll need, and their tools will be rated for the job that needs to be done.
That means you won't have to make a mid-move trip to the hardware store to pick up a new tool you're only going to use once and aren't completely confident it's up to the task you need it to do now. Professional gun safe movers will know what to expect.
Professional Gun Safe Movers Help Prevent Potential Damage
Physical injury is always a concern whenever you need to move something heavy. However, another definite concern is physical damage to your home or furniture. When you try to move something unwieldy, you may misjudge a turn and end up breaking through a wall. If a safe falls down a staircase, you may end up with a hole in your floor or stairs and thousands of dollars of damage.
Once the safe is in your moving truck, the potential for damage still exists. It may fall onto furniture or electronics during a sudden stop or wide turn. When you open the back of the truck at your destination, what you may find is a collection of shattered glass, broken wood, or busted plastic.
Professional gun safe movers, on the other hand, have navigated tight corners with large objects for years. They will utilize moving blankets, heavy duty straps, and several other tools to protect your safe, and treat it like the vaulable investment it is in the transit process.
So, there's no real reason to take on this risk yourself when professionals are available to do it for you.
Save Time
Let's say you've managed to corral all the necessary equipment, bribed some of your buffest friends and neighbors, and practiced every step of maneuvering your heavy gun safe. How much time did that cost you? You likely spent more time doing a bunch of work when you could have saved yourself countless hours by simply picking up the phone and calling professional gun safe movers to do it all for you.
That frees you up to supervise the move and make sure everything gets to its right spot. It allows you to help your family move their boxes. It may turn an all-day affair into something that has you done in time to order pizza and break in your new kitchen.
Saving time is valuable, and when you think about how you've saved your back, your furniture, and your sanity, too, you'll realize that you can save so much by hiring gun safe movers to move your safe for you.
H&H Shooting Sports Is Here to Help
The delivery crew at H&H has years of Safe Moving and Installation experience. We have the equipment and expertise to move safes anywhere in Oklahoma, and even into the surrounding areas. Moving is a potentially dangerous and difficult task. We have the advantage of specialized safe moving equipment and experienced safe personnel. This advantage helps us keep our prices competitive and yet maintain an impeccable safety record.  All safe installs and deliveries are done with in-house H&H team members; we do not outsource these services of the purchase to a third party delivery company unfamiliar with our product.
Feel free to give us a call at (405) 947-3888 EXT 188 to get a quote on a safe move – If you call while our delivery crew is out pushing around a safe, please leave a detailed voicemail including your name, address, phone number, and any details about your safe including brand & model, size, weight, or any other details. Our delivery manager will return your voicemail as soon as possible.