After the tornado in Moore, Oklahoma on May, 20th Ben's American Security Safe was still standing. H&H delivered and bolted his safe to the foundation in his garage just a few months before the tornado came. It's a great feeling to have a quality product that will hold up to an EF5 tornado. His safe was just beat and banged up, but still functioning! Ben has stated that he will never own another brand of safe, in his opinion, American Security has proved to be the best!

My American Security Safe Survived the May 20th EF5 Tornado!
The American Security Safe is beat up but still functional!
Ben's Safe was bolted to the foundation and was still standing after the EF5 tornado with it's door still secured. He opened up the safe to find all of his valuables were still protected!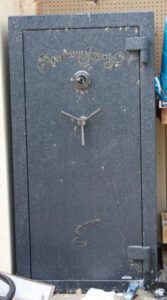 When it comes to protecting your valuables, nothing beats an American Security Safe!
American Security makes one tough safe!
H&H Shooting Sports, where Ben purchased the safe, and who delivered and bolted down the American Security Safe, will be replacing his safe for an upgraded American Security model. Ben's original safe is still in working order and will be installed into the H&H Safe Department so that everyone can see how the American Security Safe stands up to an EF5 Tornado in person.