3 Best Entry-Level AR-15 Rifles on a Budget
Looking for the best entry-level AR-15 rifles? Find out how you can easily afford a modern sporting rifle for your next range day at H&H Shooting Sports.
Whether you're preparing for a day at the shooting range or picking up a rifle for home defense, discover the best entry-level AR-15 rifles and accessories for your use. Pick up a dependable firearm and affordable accessories when you shop in Oklahoma City at H&H Shooting Sports.
 What is an AR-15?
There are many misconceptions about this style of rifle. Often known as America's rifle, the AR-15 is a popular modern sporting rifle design used in hunting, competitive shooting, and home defense. AR stands for ArmaLite, the brand name of the first manufacturer of this firearm style. They sold this design in the 50's to Colt's Manufacturing who owns the trademarked term "AR-15." Because Colt owns the AR 15 designation, the Modern Sporting Rifle (MSR) term is a catch-all designation for AR-style firearms manufactured and sold by all other companies.
Modern Sporting Rifle Facts – via the NSSF
Modern sporting rifles are among the most popular firearms being sold today.
The "AR" in "AR-15" rifle stands for ArmaLite rifle, after the company that developed it in the 1950s. "AR" does NOT stand for "assault rifle" or "automatic rifle."
AR-15-style rifles are NOT "assault weapons" or "assault rifles." An assault rifle is fully automatic, a machine gun. Automatic firearms have been severely restricted from civilian ownership since 1934.
If someone calls an AR-15-style rifle an "assault weapon," then they've been duped by an agenda. The only real way to define what is an "assault weapon" is politically, as in how any given law chooses to define the term—this is why the states that have banned this category of semiautomatic firearms have done so with very different definitions.
AR-15-style rifles can look like military rifles, such as the M-16, but by law they function like other semiautomatic civilian sporting firearms, as they fire only one round with each pull of the trigger.
Versions of modern sporting rifles are legal to own in most states, provided the purchaser passes the mandatory FBI background check required for all retail firearm purchasers.
Since America's founding, civilian sporting rifles have evolved along with military firearms. The modern sporting rifle simply follows that pattern.
These rifles' accuracy, reliability, ruggedness and versatility serve target shooters and hunters well. They are true all-weather firearms.
Modern sporting rifles are chambered in .22 LR, .223 (5.56 x 45mm), 6.8 SPC, .308, .450 Bushmaster and in many other calibers. Upper receivers for pistol calibers such as 9 mm, .40, and .45 are available. There are even .410 shotgun versions.
These rifles are used for many different types of hunting, from varmint to big game. And they're used for target shooting and in competitions.
AR-15-style rifles are no more powerful than other hunting rifles of the same caliber and in most cases are chambered in calibers less powerful than common big-game hunting cartridges like the .30-06 Springfield and .300 Win. Mag.
The AR-15 platform is modular. Owners like being able to affix different "uppers" (the barrel and chamber) to the "lower" (the grip, stock).
They have been commercially sold to the American public since the 1960s.
They are commonly-owned, with more than 16 million modern sporting rifles owned by civilians by 2018.
And, they are a lot of fun to shoot!
 How To Choose the Best Entry-Level AR-15 Rifle
There are many shooting situations where you may wish to use an AR-15, so the best entry-level option for you depends on your situation. First, consider the caliber of the round that best fits your purposes. Here are just a few AR-15 caliber options available:
.22 LR
8 SPC
.223
.450 Bushmaster
.40
.45
9 mm
.410
Another factor to consider is the barrel twist rate. This rate, typically between 1:7 and 1:9 with an AR-15, describes each twist's number of inches. A 1:7 twist rate means there is one twist for every 7 inches of barrel length.
The grip and stock available can also affect the best firearm for you. A pistol grip is a common feature with these rifles, and an adjustable stock allows you to alternate its use.
After you determine the best match of upper and lower for your situation, it's time to shop for accessories. Optics can help you aim confidently with a clear view. There's nothing worse than aiming at an unclear target, so be sure that you can fully see the game or target you intend to shoot to avoid a dangerous situation.
Many AR-15 owners build their rifles. Lowers and uppers' versatility makes it convenient to shop for a new barrel, stock, and other features to tailor a rifle for a particular shooting application. For your first rifle, however, it's best to shop for a complete rifle. The following top three AR-15 rifles come from reputable manufacturers and include generous warranty coverage. Pick up your first AR-15 and use it with peace of mind knowing the upper and lower are suited for each other and your situation.
Now that you have an idea of the features that make up a great AR-15, it's time to compare three of the best entry-level AR-15 rifles. Check out these three and choose one for your first AR-15 before adding on awesome accessories and helpful hunting gear.

ArmaLite Defender
ArmaLite is the company that popularized the AR-15 design, so it's no wonder one of these dynamic rifles made the list. The ArmaLite Defender uses a 1:7 twist barrel with chrome lining. This double-lapped barrel can easily handle between 50 and 55-grain rounds but is tailored more toward higher grain counts.
A Picatinny gas block, dust cover, forward assist, and flat top make this iconic AR a handy option to have at the shooting range or out in a deer stand. Care for your rifle and you'll enjoy a limited lifetime warranty by ArmaLite. The ArmaLite DSR is another affordable option for your first AR-15 from this iconic brand.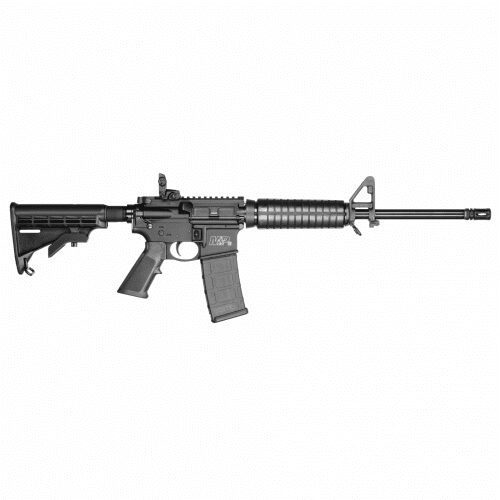 Smith & Wesson MP-15
It's hard to beat the flexibility and build quality of the Smith & Wesson MP-15. In terms of durability, the included dust cover and Armornite finish prevent corrosion and damage as you stalk big game through the wilderness or head out to the target range on a rainy day.
You can still use bullets with 75 grains or more, but the MP-15 really excels with lighter bullets thanks to its 1:9 twist. A bolt carrier, chrome-lined gas key, and generous warranty are excellent features for this entry-level AR-15. Upgrade to the Sport II and enjoy a chromed firing pin.

Ruger AR-556
Like the SR-556 and SR-556E, the Ruger AR-556 is a very popular option for hunting and target shooting. The cold hammer-forged barrel is specifically manufactured with a 1:8 twist for excellent stabilization. The chrome-plated gas key, flip-up rear sight, and bolt carrier are all quality upgrades for an entry-level addition to your collection.
All AR-15 rifles have customizable grips, but the pistol grip included with the AR-556 is a comfortable, ergonomic option for shooting with or without gloves. You'll notice less rattle with this AR-15 compared to other options, making it sleek and easy to fire.
Shop for the best Entry-Level AR-15 Rifles and Accessories at H&H Shooting Sports
How do you choose the best entry-level AR-15 rifles to be your first AR-15? You can't go wrong with any of these three, but the best way to choose is to consider your shooting situation. Are you primarily ordering a home defense firearm, target shooting tool, hunting, or a competitive rifle? A home defense rifle should have a generous warranty, be easy to clean, and come in at an affordable price. All of these rifles have secure safety features, so an AR-15 that's properly stored makes a great home defense option.
For competitive shooting, you need to check with your local competition organizer to ensure you have a legal option. Hunting rifles should have a quality scope, all-weather design, and a caliber suited for your particular game size. Consider selecting a slightly lower caliber than with other rifles.
H&H Shooting Sports is Oklahoma's Headquarters for Guns & Gear. Whether you're looking for the best starter AR15 or a few must-have accessories – Shop online or visit us in store today to find quality products at great prices.