August is National Shooting Sports Month! Gear Up In August 2022 Sales Event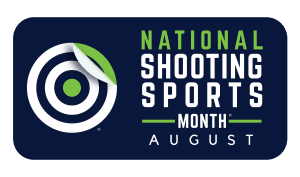 National Shooting Sports Month celebrates the passion we all have for target shooting and a pastime that provides a lifetime of enjoyment that can be shared with families and friends. At the same time, it reminds the public that shooting is a safe, fun activity enjoyed by millions of Americans, and provides an excellent opportunity for increased shooting sports participation through fun events and activities held at ranges and retail stores across the country. Our Gear Up In August 2022 Sales Event offers savings all over our store, with great in store specials on all the guns & gear you need to hit the range and enjoy the shooting sports.
So, to add even more excitement to your trip to the range, we're running some really cool promotions during the entire month of August! Each month we put together some of our top deals on the guns & gear throughout the store and offer them with a special discount all month long, while supplies last. Next time you're in store pick up your copy or check out the digital copy below!
Join in on the fun this month! Share your range shots using the #LetsGoShooting hashtag.
Be sure and check that you "like" our page on Facebook in order to receive future announcements. Each person who likes/comments/shares our  Free Stuff Friday drawings in August has a chance to win a H&H #LetsGoShooting Prize Pack!
One trip to the range can be all it takes to inspire a new recreational shooter! Do you know someone who wants to learn? You will be entered to win a valuable prizes, all you have to do, is bring a +ONE to the range with you!
This month you can grab a friend or family member and join us at H&H to enjoy some time on our shooting ranges! In honor of National Shooting Sports Month we are offering 50% OFF shooting lane rentals every Wednesday in August. Thats only $5.50 for lane rentals every Wednesday in August! #letsgoshooting #plusonemovement
Our Gear Up In August 2022 Sales Event has something for everyone! These sales and specials are offered this month only at Oklahoma's Headquarters for Guns & Gear – H&H Shooting Sports – located just off I-40 & Meridian.
Check out all of these offers and more in our 4 page Gear Up In August 2022 Sales Event flyer below.