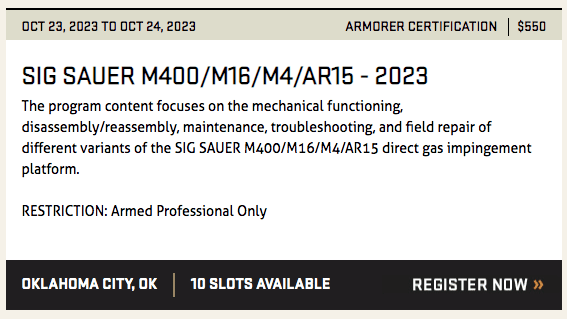 Training Announcement
Armorer Certification
SIG SAUER M400/M16/M4/AR15 Rifle
Date: October 23-24, 2023
Location: H&H Shooting Sports, 400 South Vermont, Suite 110, Oklahoma City, OK 73108
Host Contact: Randall Hancock Telephone: (405)-947-3888 ext 141
E-mail: Randall.hancock@hhshootingsports.com
Duration: 2 Days (16 Hours) 8:30 AM-5 PM Tuition: $550
Course No.: AC-M400AC-20231023-1F
Registration: Register on-line at www.sigsaueracademy.com or contact the SIG SAUER Academy Training Coordinator via phone at 603-610-3411.
Course Goal:
The program content focuses on the mechanical functioning, disassembly/reassembly, maintenance, troubleshooting, and field repair of different variants of the M16/M4/AR15 direct gas impingement platform.
This is a hands-on program that teaches and guides each participant through all armorer operations, step by step with the instructor. Active participation coupled with question and answer periods provide a supportive learning environment for maximum retention of the material.
The course is also well suited for the law enforcement armorers to design their agency's own maintenance and inspection program. A three (3) year certification is issued upon successful course completion.
Brief Course Overview of subjects to be covered:
Safety when handling the SIG SAUER M400/AR-15 Rifle
An examination of the M400/AR15 weapon system
Disassembly and assembly procedures: lower receiver, upper receiver
Inspection procedures
Operational function checks
Cycle of Operation
Sights: installation, adjustment