Smith & Wesson is starting off 2023 with rebates on over 300 of their most popular firearms.  With rebate values up to $100 the Smith & Wesson Firearm Frenzy Rebates have something for nearly everyone. This rebate will run from January 15th– April 2nd 2023 offering you up to a $100 rebate with the purchase of select Smith & Wesson firearms. The rebate will be in the form of a prepaid card. Please allow at least 6-8 weeks for fulfillment of valid rebate requests.
For purchasers to participate in the Smith & Wesson electronic rebate program, they must complete and submit the online rebate form at www.swrebates.com All submissions must include proof of purchase, SKU#, serial number, and be dated on or before April 2nd, 2023.
Now is the time to stop by and see us at H&H Shooting Sports to take advantage of these Smith & Wesson Firearm Frenzy Rebates!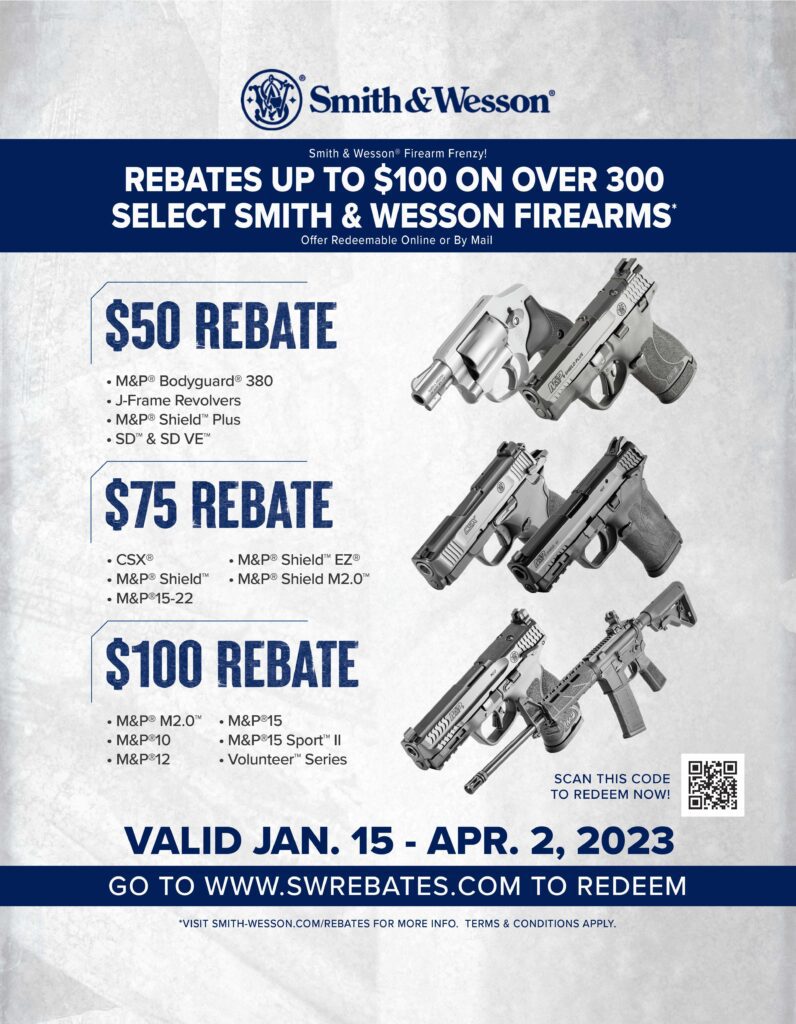 Purchases of any qualifying new Smith & Wesson firearm between January 15,2023  through April 2, 2023, will be eligible to receive the following (for United States customers only):
$50 Rebate
• M&P® Bodyguard 380
• J-Frame Revolvers
• M&P Shield Plus
• SD™ & SD VE™
$75 Rebate
• CSX
• M&P Shield
• M&P Shield EZ
• M&P Shield M2.0
• M&P 15-22
$100 Rebate
• M&P M2.0
• M&P 10
• M&P 12
• M&P 15
• M&P 15 Sport  II
• Volunteer  Series
To redeem the Smith & Wesson Firearm Frenzy Rebates by mail
Step 1: Print Rebate Coupon https://www.smith-wesson.com/rebates
Step 2: Fully Complete Coupon Serial & SKU #'s Required
Step 3: Enclose: (1) Dated Sales Receipt with Store Name that Clearly Identifies Item Purchased Required (2) Photo of Box Label OR Actual Box Label Required
Step 4: Mail to: SMITH & WESSON FIREARM FRENZY REBATE OFFER #23-90294 • PO BOX 540011 EL PASO, TX 88554-0011
To view the terms & conditions of this promotion please visit www.swrebates.com or www.smith-wesson.com/rebates.  OFFER CANNOT BE COMBINED WITH ANY OTHER SMITH & WESSON PROMOTION OR DISCOUNT