Stoeger Announces $50 Mail-in Rebate on STR-Series Pistols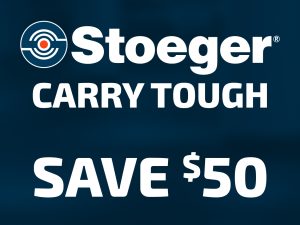 Stoeger recently announced a $50 mail-in rebate on the STR-Series pistols. This rebate is available for a limited time only, so don't miss out on this opportunity to save on a great pistol!
The STR-9 is a striker-fired pistol chambered in 9mm. It is a popular choice for shooters of all experience levels due to its affordability, reliability, and accuracy.
To take advantage of this rebate, simply purchase a new Stoeger STR-Series pistol from H&H Shooting Sports and mail in the completed rebate form. The rebate form can be downloaded from the Stoeger website – here.
This rebate is valid for purchases made between November 1, 2023 and January 15, 2024. Rebate requests must be postmarked by 02/15/2024.
Full Terms & Condition
Purchase a Stoeger STR-Series pistol between November 1, 2023 and January 15, 2024 and receive a $50 rebate check via mail. Follow the online instructions to fi ll out your rebate form at: https://rapid-rebates.com/StoegerSTR-9Offer. You will need the product UPC code and the original store identified receipt dated between 11/1/2023 and 1/15/2024 with your qualifying purchase circled to submit with your rebate claim.
Offer valid on purchases made between 11/1/2023 and 1/15/2024. Requests must be submitted and postmarked by 02/15/2024. Offer valid in the US only. Void where taxed, restricted or prohibited. Submissions received from or listing P.O. boxes will not be paid, except in North Dakota. Allow eight to ten weeks after submission for delivery of your rebate check. Rebate checks must be deposited before the expiration date noted on the front of the check. Stoeger Industries will not be responsible for or reissue checks for those that are not deposited prior to the check expiration date. Stoeger Industries reserves the right to confi rm identification and request additional proof of purchase to substantiate claim. Fraudulent submissions could result in federal prosecution under US Mail fraud statutes (18 USC Sections 1341 and 1342). Stoeger Industries reserves the right to suspend or cancel this program at any time.
.